Children are the primary actors in the simple human values that make up inclusive play. They are naturally oriented towards sharing, socialisation and accessibility. The design of an inclusive playground must simply respond to these reflexes.
Playing with the senses to create an inclusive world
But keeping it simple is often a complex challenge. It is the details that make the difference. That is why EXTEBOIS is a credible player in the field of inclusive games. Through its structure, team and experience, the company attaches great importance to all the elements that enable the best possible inclusion.
The materials are the first actors of an inclusive playground. The child must recognise the space in which he or she will evolve through his or her senses. Touch, sight and hearing are the keys to understanding the play environment, including for children with a disability in one of these senses. The design carried out by the research department therefore focuses on creating and choosing the most suitable materials and colours for each different universe and each project.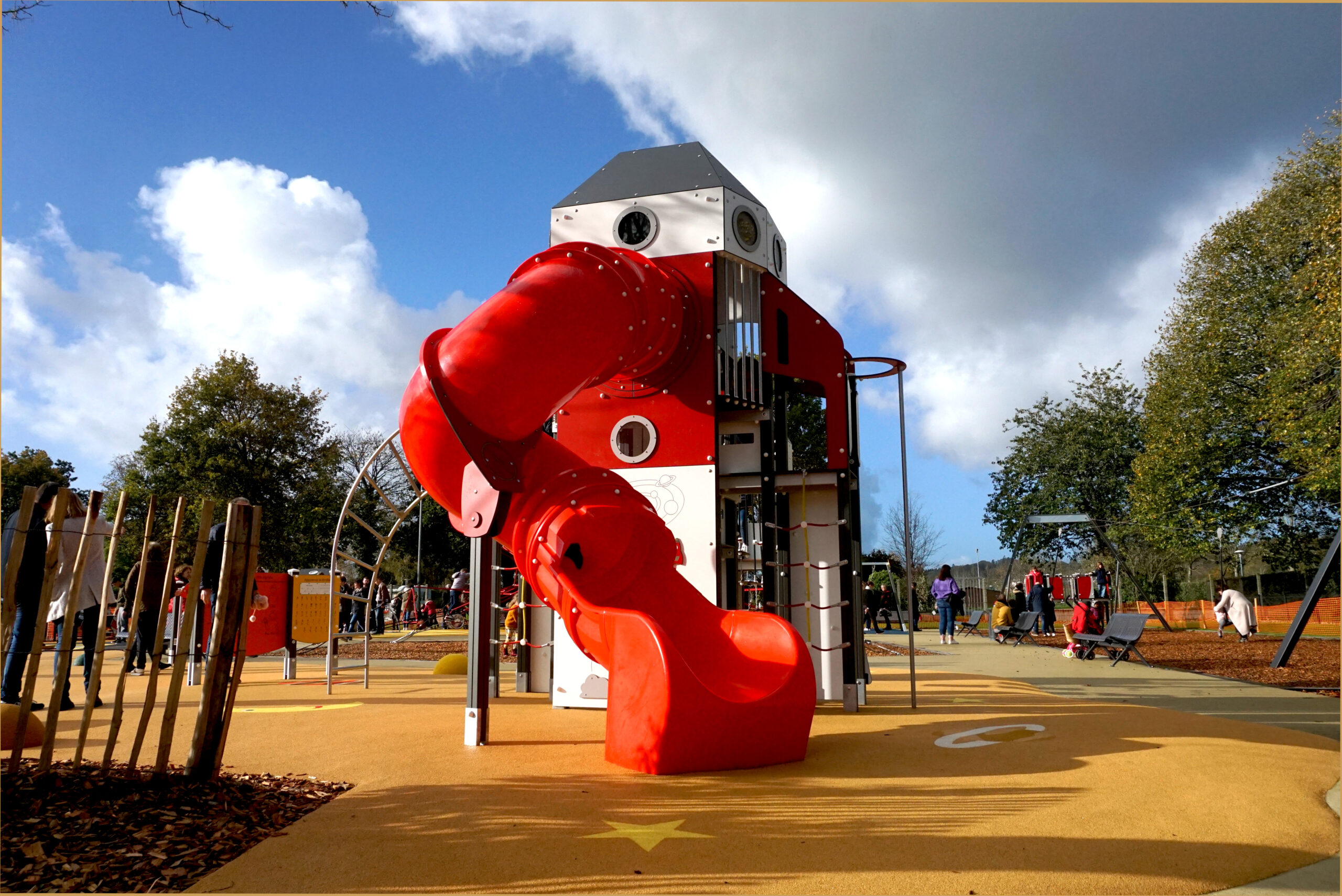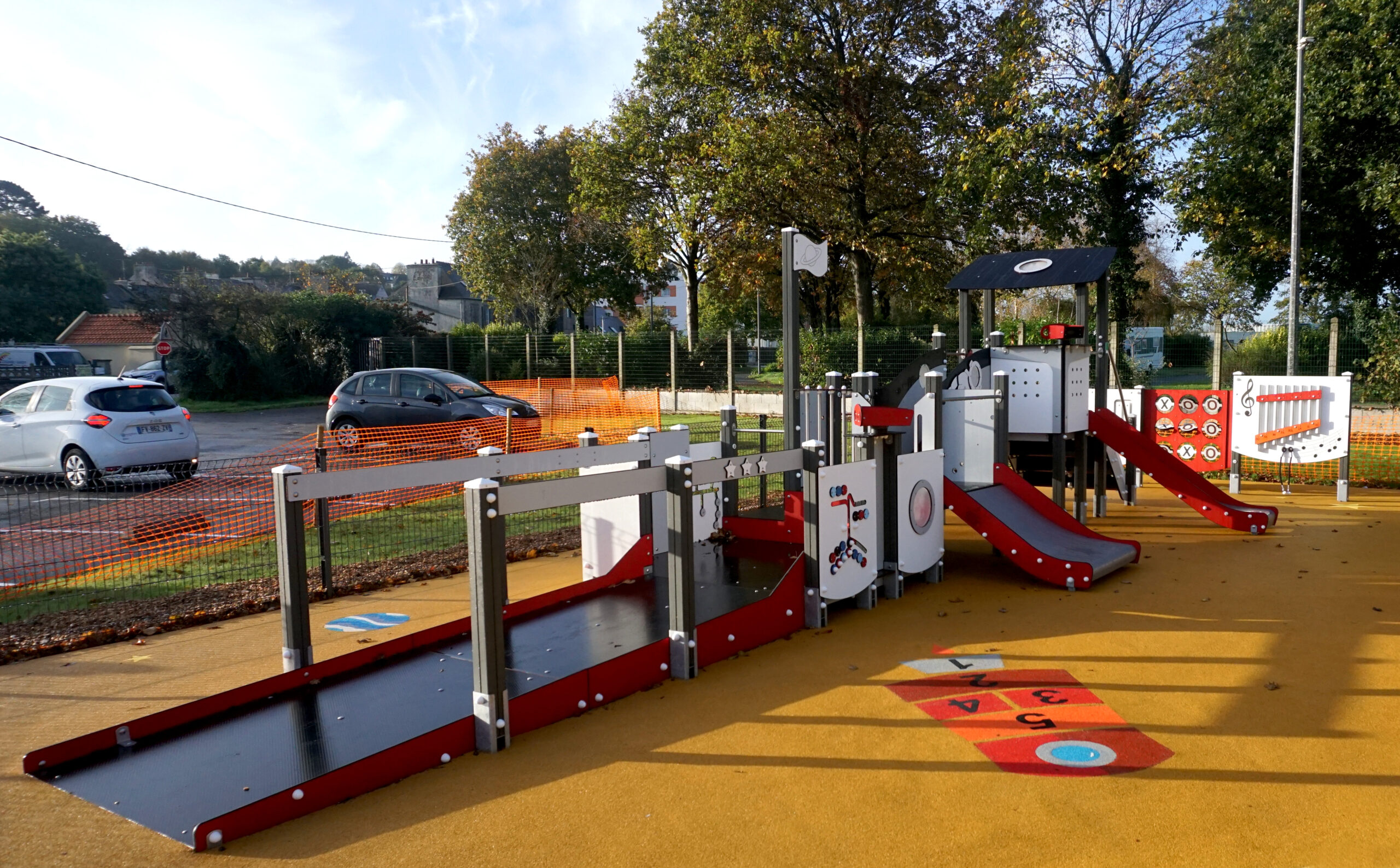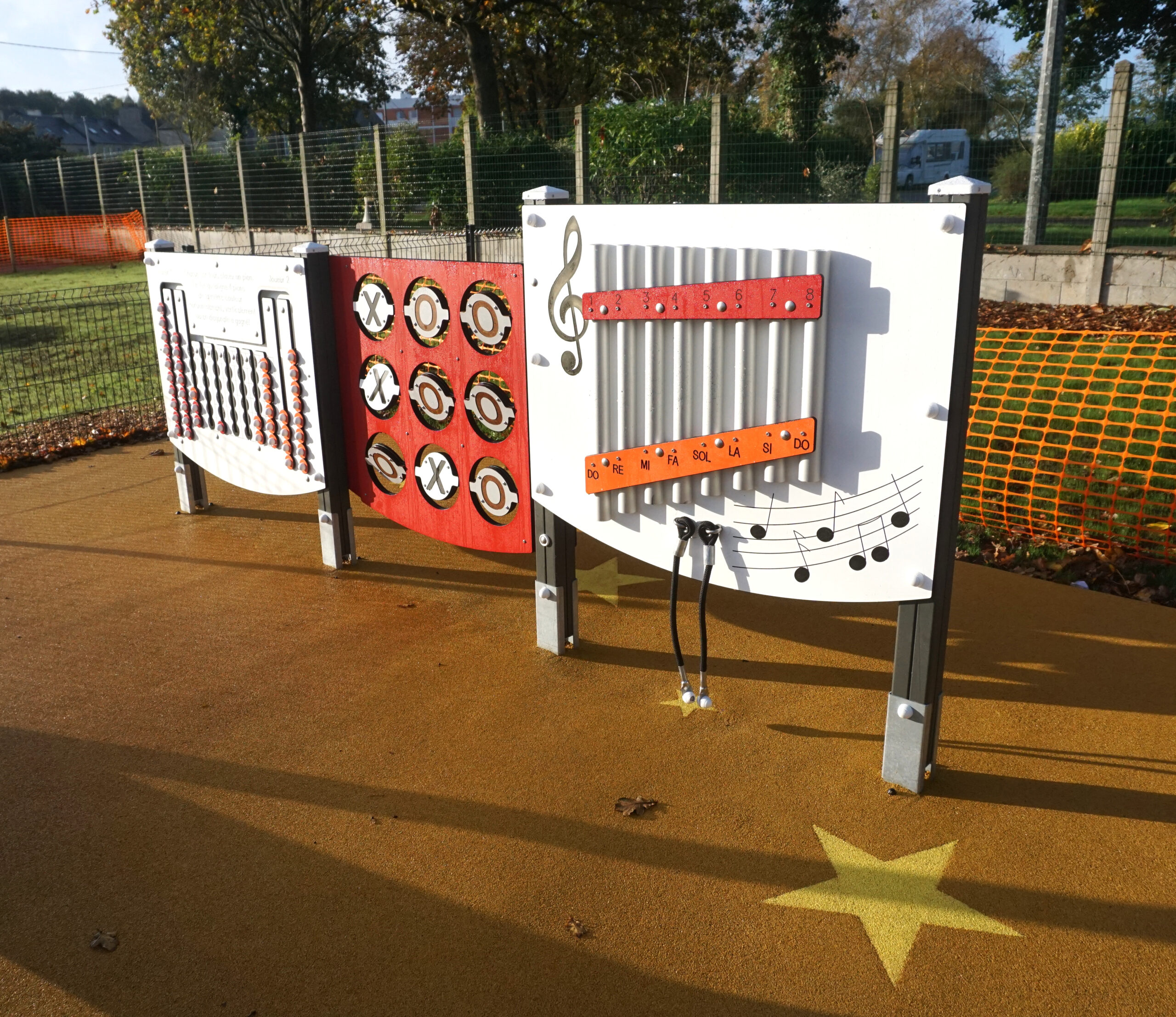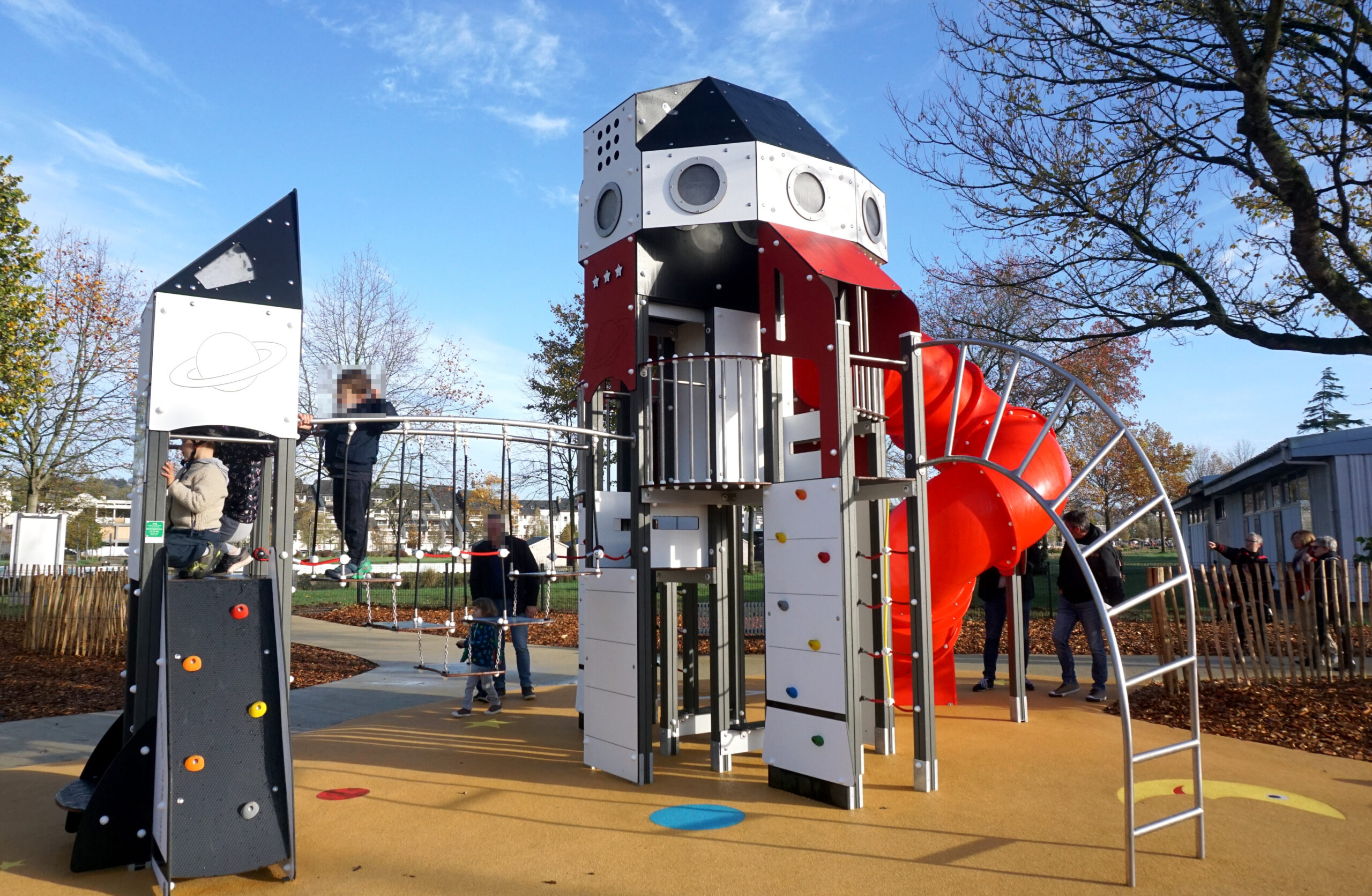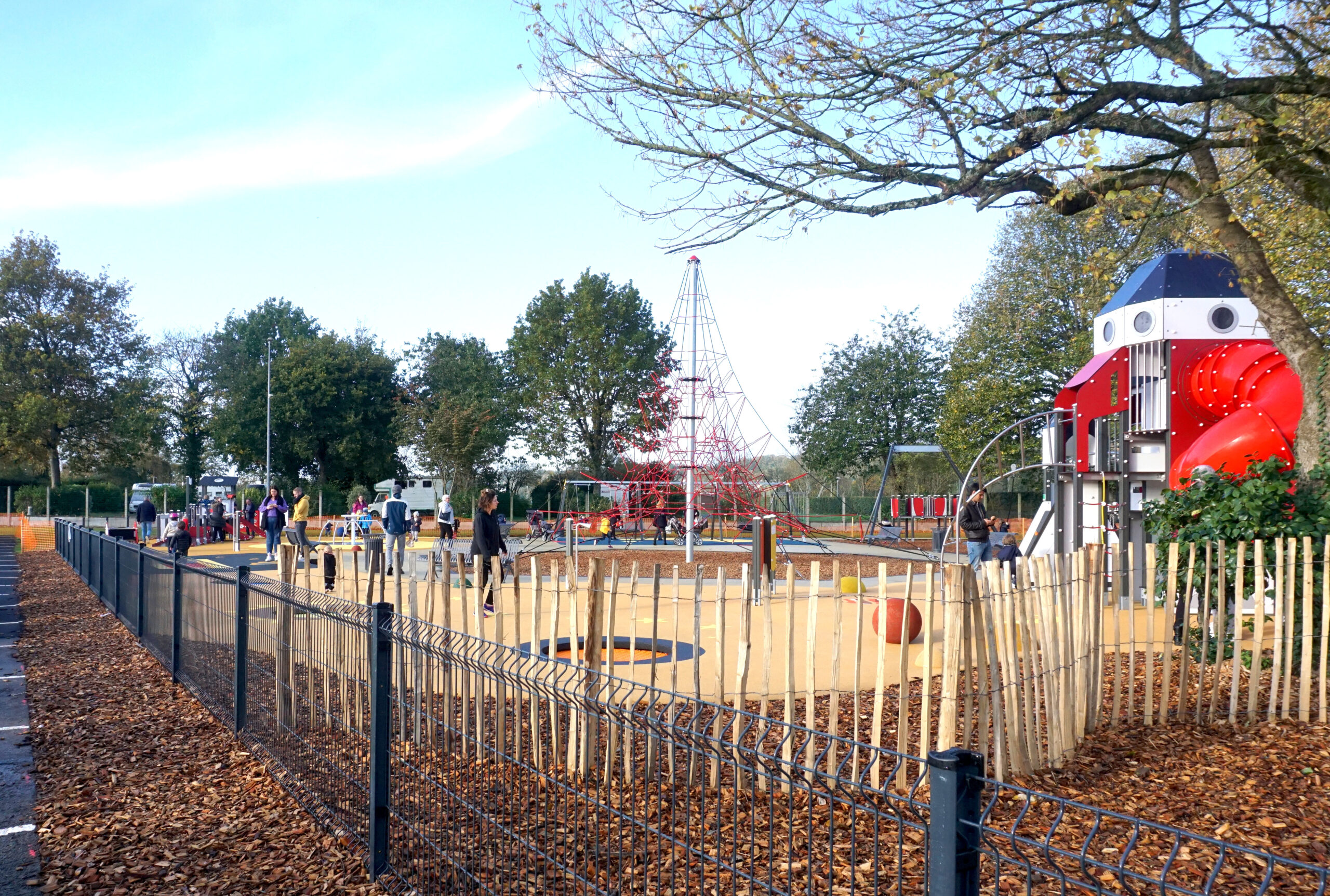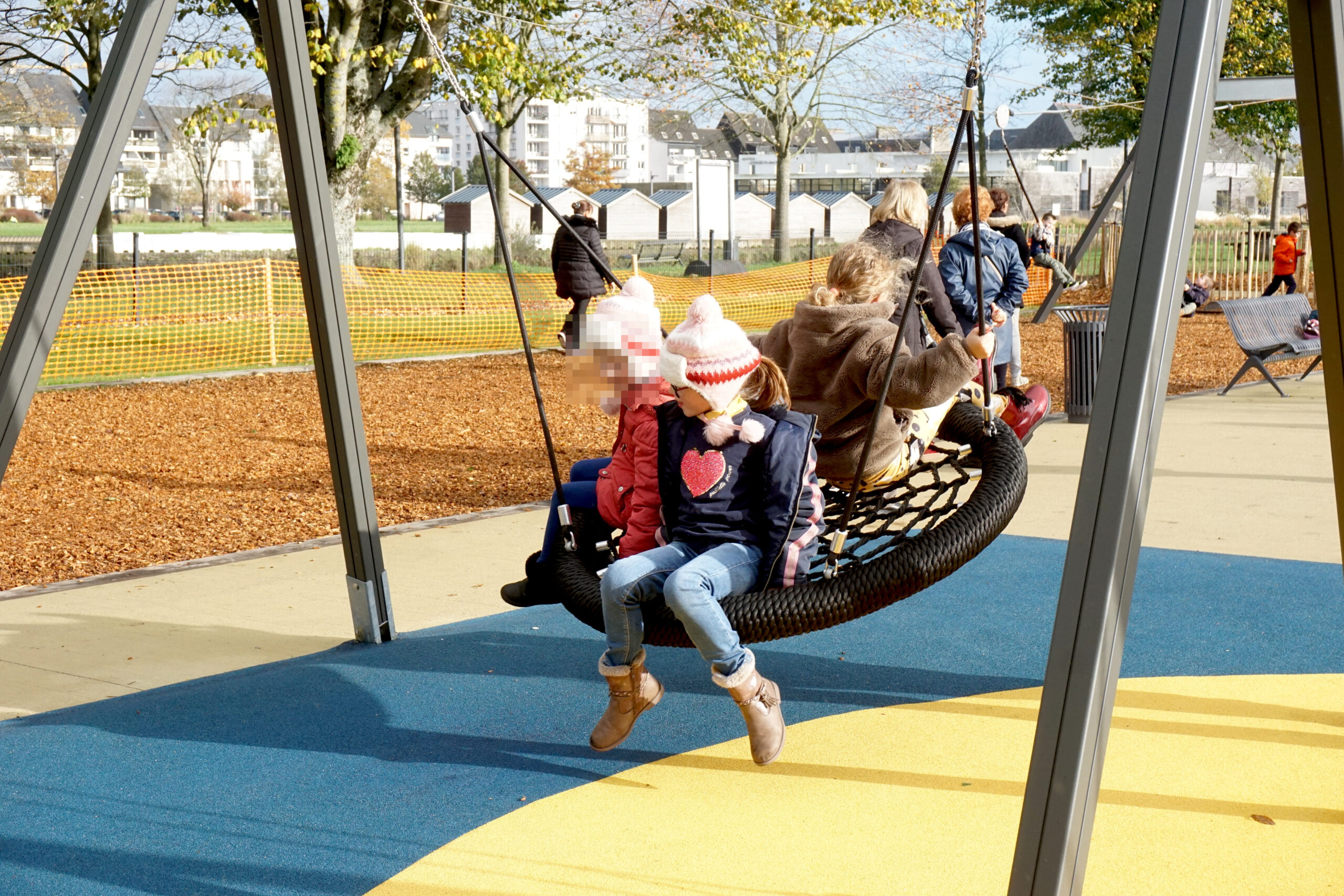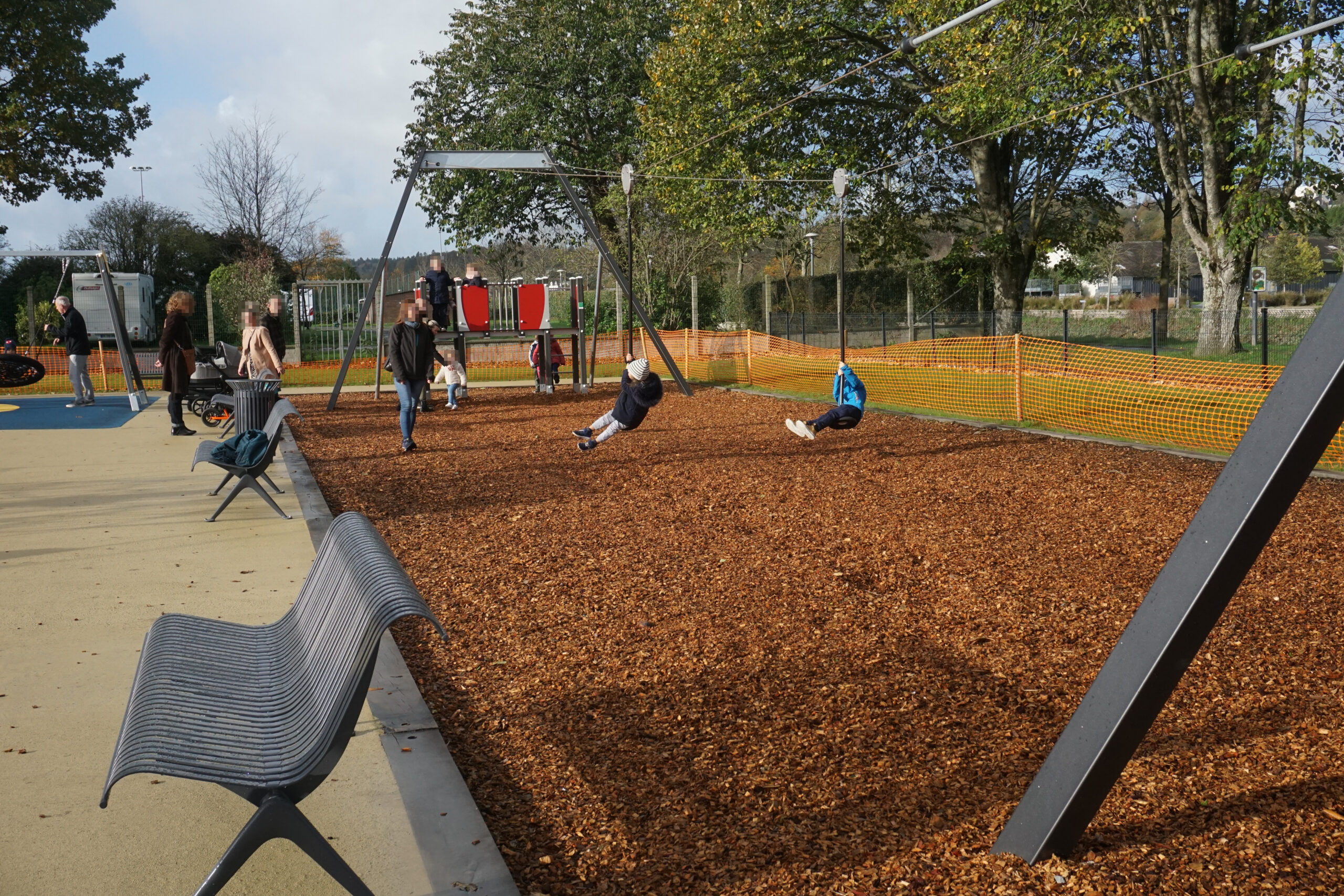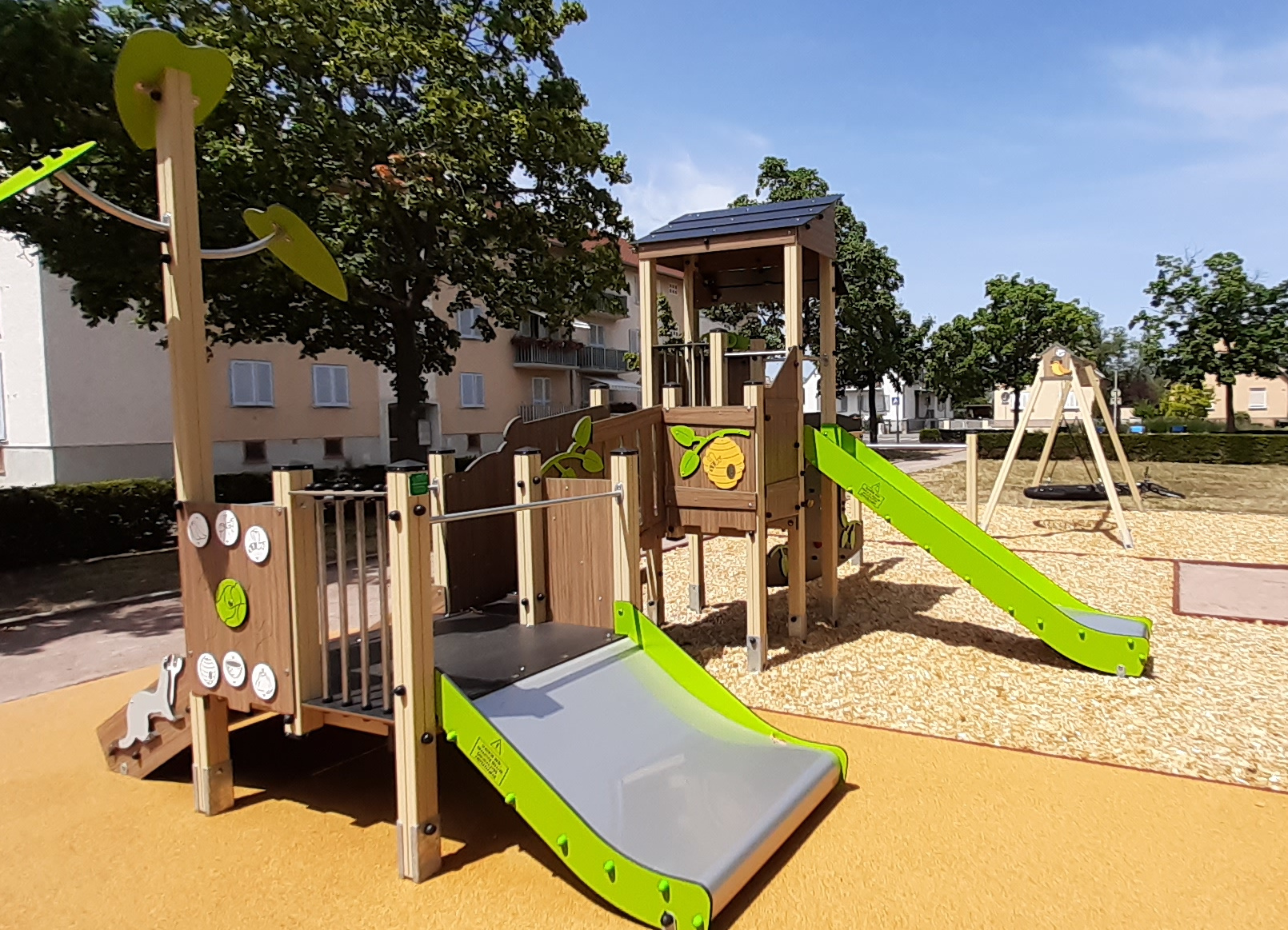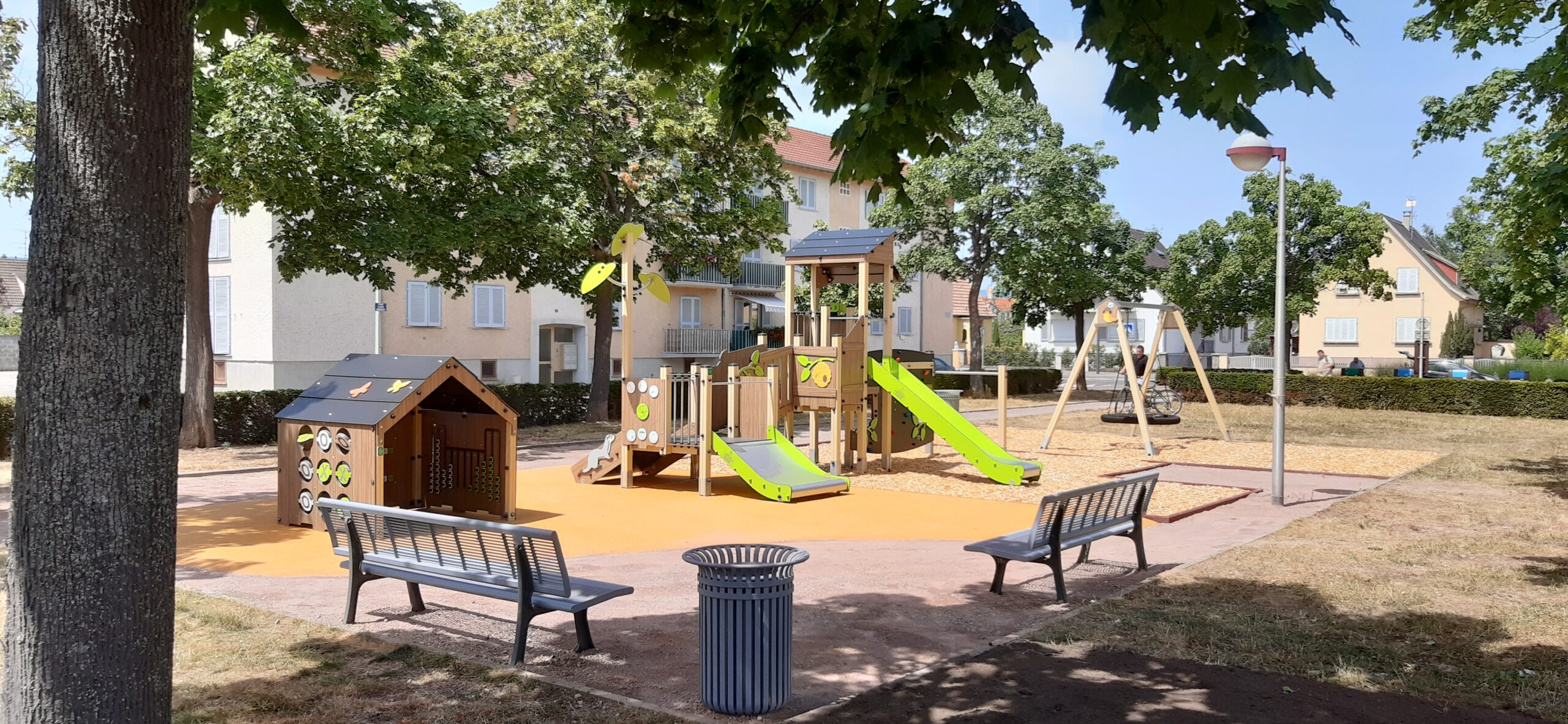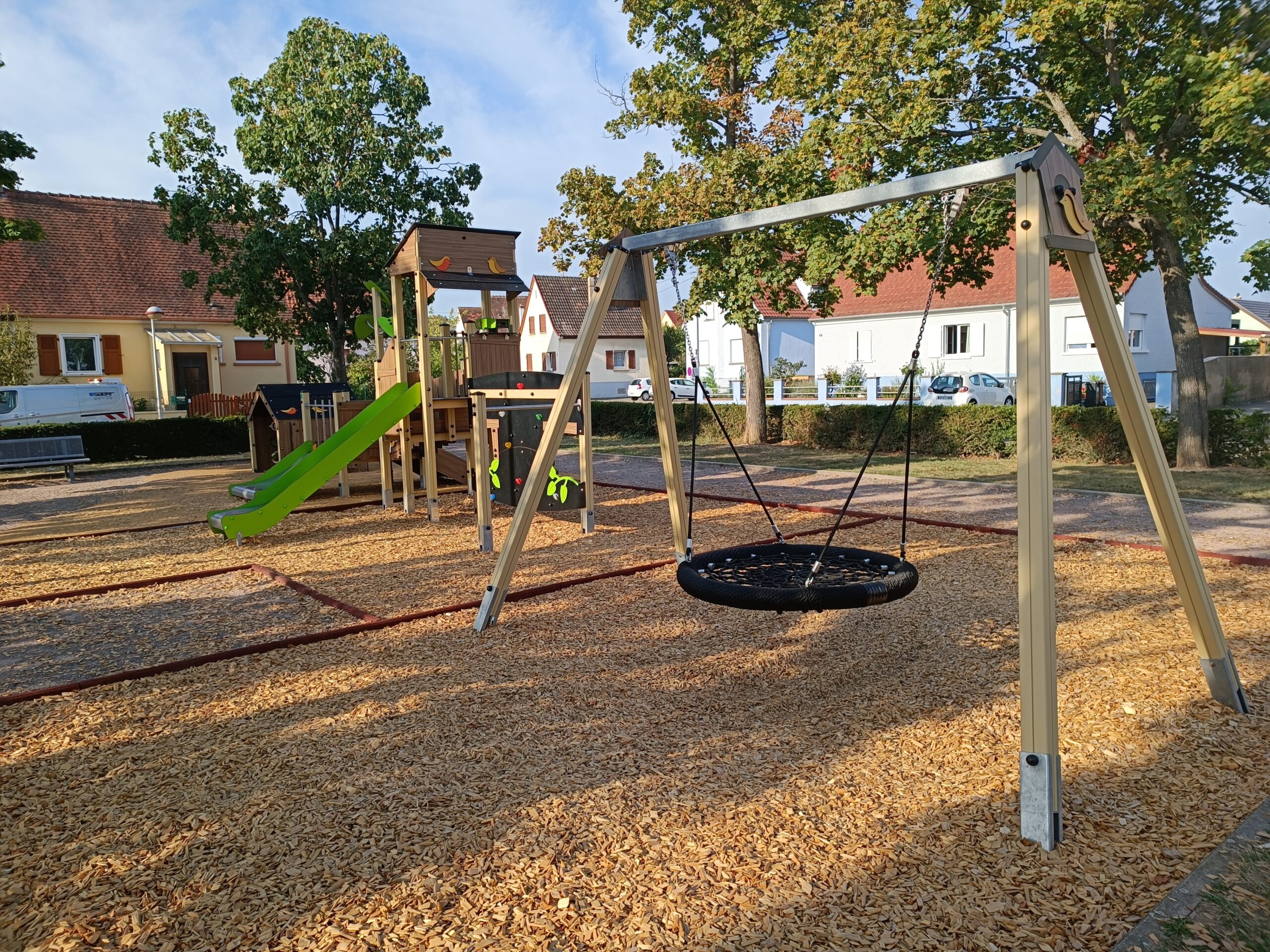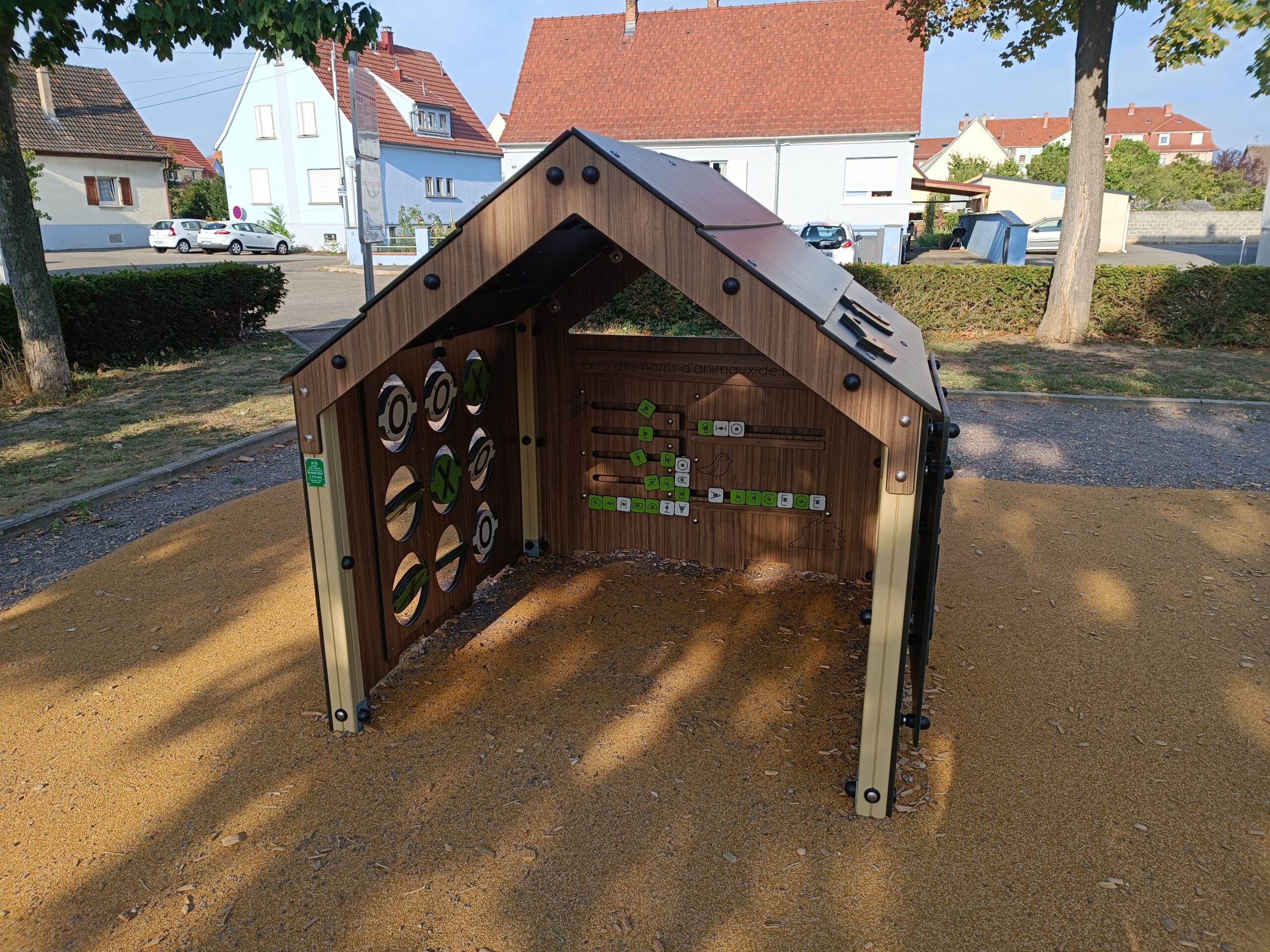 A playground designed for all children
By definition, a playground is a space in which children evolve and develop their abilities. The challenge of inclusive play is to facilitate "playing together". Each child, including children with reduced mobility, must be able to develop naturally, alone and in groups. Allowing children of different ages and with different mobility levels to play together in the same space adapted to each of them is a daily challenge successfully met by the design office.
Building an inclusive playground means taking into consideration all the differences between children (age, disability, social status) and skilfully erasing them to allow them to play together. Inclusive design is practical, directly applicable and makes a real difference on the ground between one accessible playground and another.
The company's playgrounds promote physical expression, sensory, cognitive and social development of the child. From the design stage, the play experience guides the realisation of each project.
Get inspired! 56m² of HISSEHO RANGE
Enter the world of the Fishing theme with its net for climbing or resting by the sea, its wide slide for two and its labyrinth with its playful panels.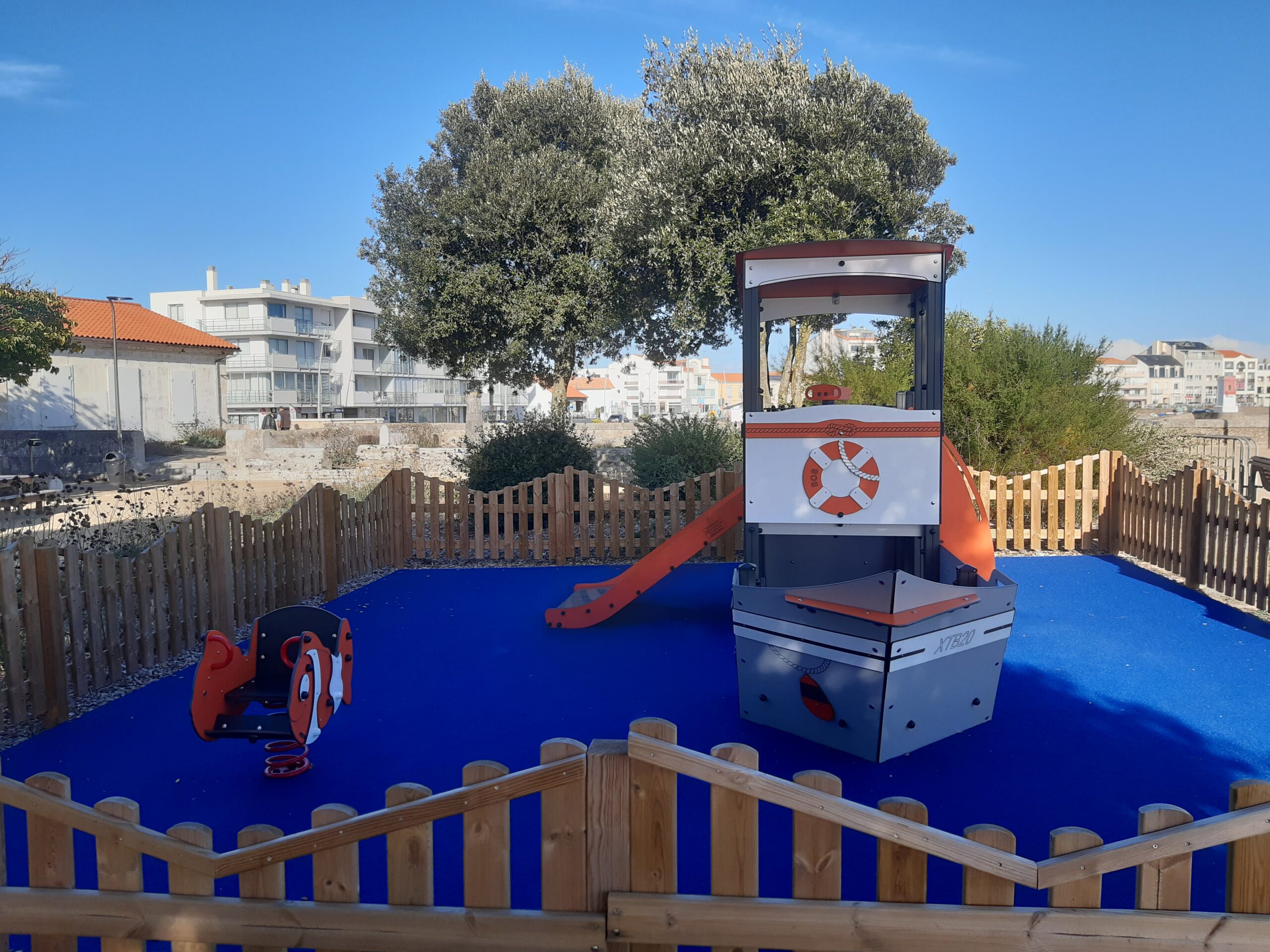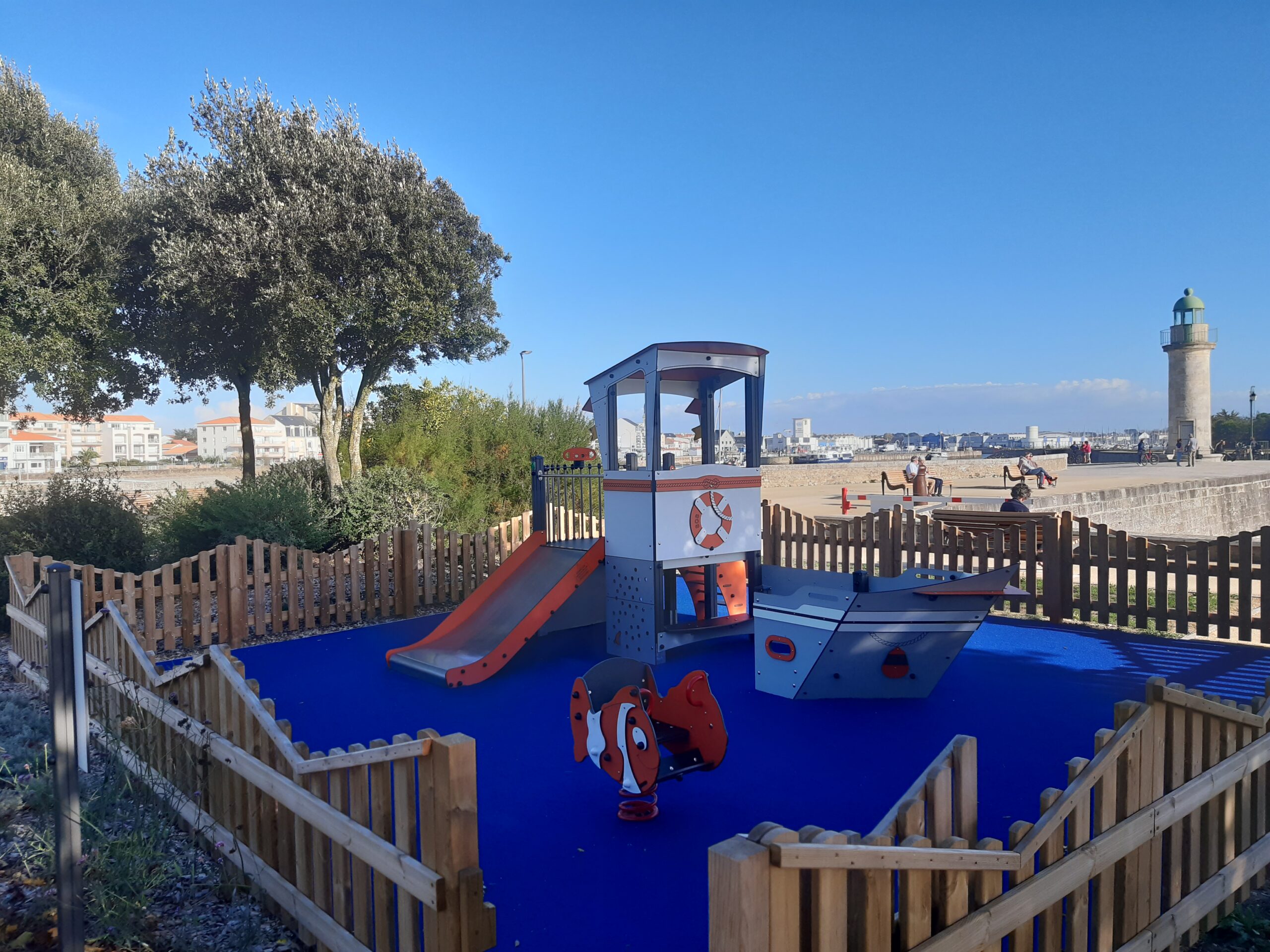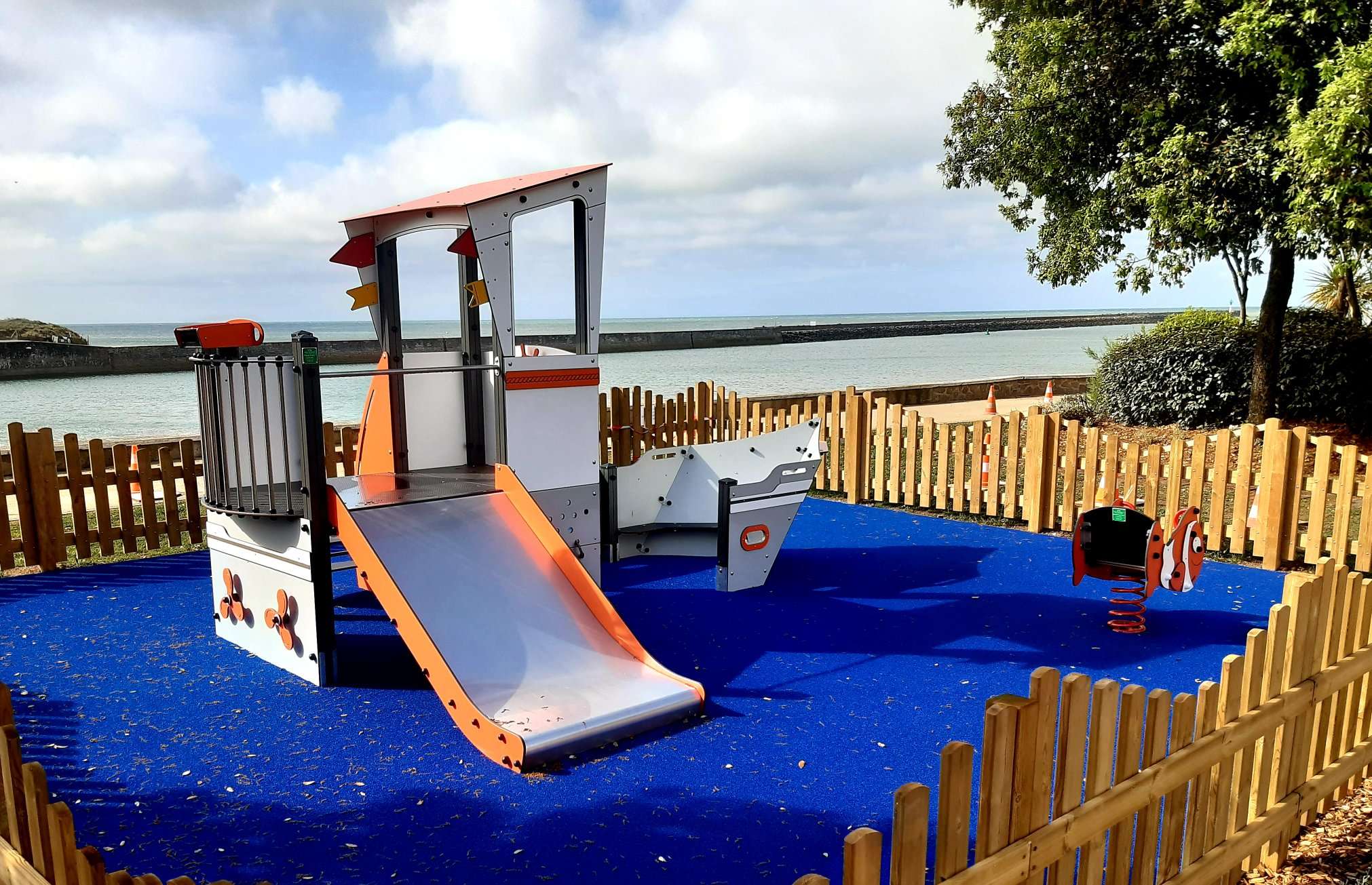 Play structures

We have classified our different games into several categories:
LOW INCLUSIVE STRUCTURES
These types of games are designed for people with reduced mobility. They have a ramp and therefore a wide access that allows an independent and easy movement in a wheelchair and the possibility of transferring from a wheelchair to a turret.
Turret height: 0m16 to 0m55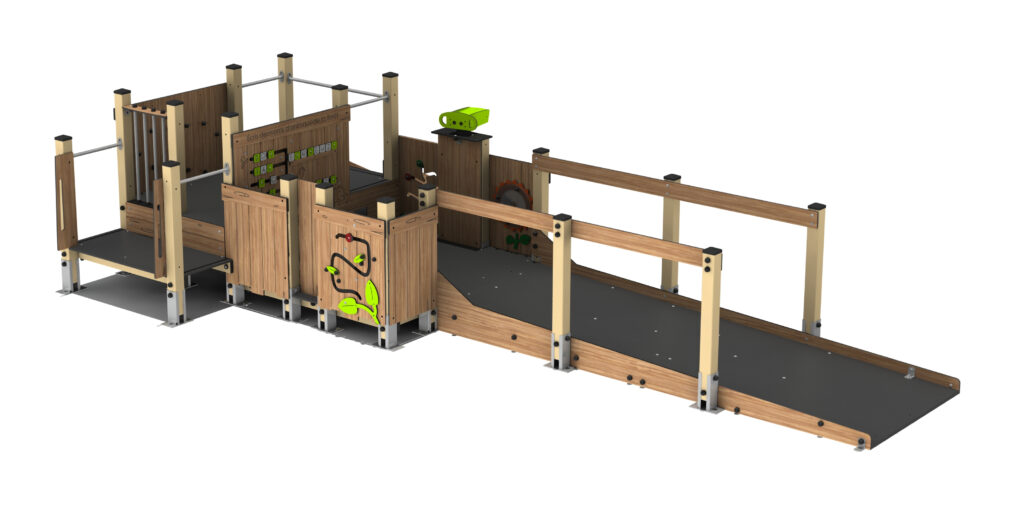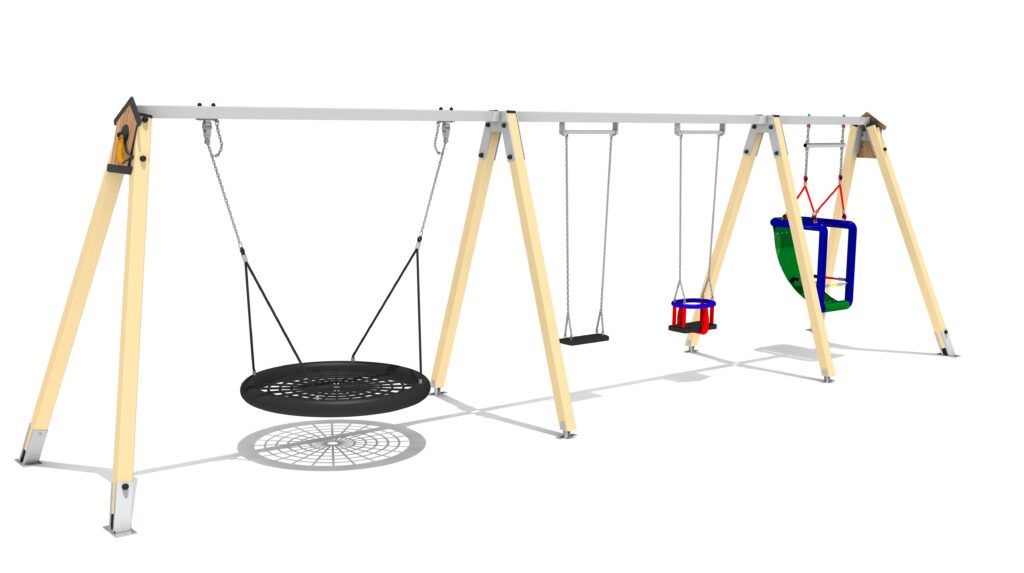 INCLUSIVE GATES
They facilitate "playing together". The gantries include several types of seats (standard, baby, basket, PRM) which can be combined on the same gantry so that children, whatever their disability, can swing alone or with others.
MIXED INCLUSIVE STRUCTURES - EARLY CHILDHOOD
They are dedicated to children from 6 months to 6 years old with mild to moderate disabilities. The mixed structures have more or less physical equipment (stairs, ramps). People with reduced mobility have access to the play panels in the lower part and to the huts on the ground without a floor
Turret height: 0m55 to 0m90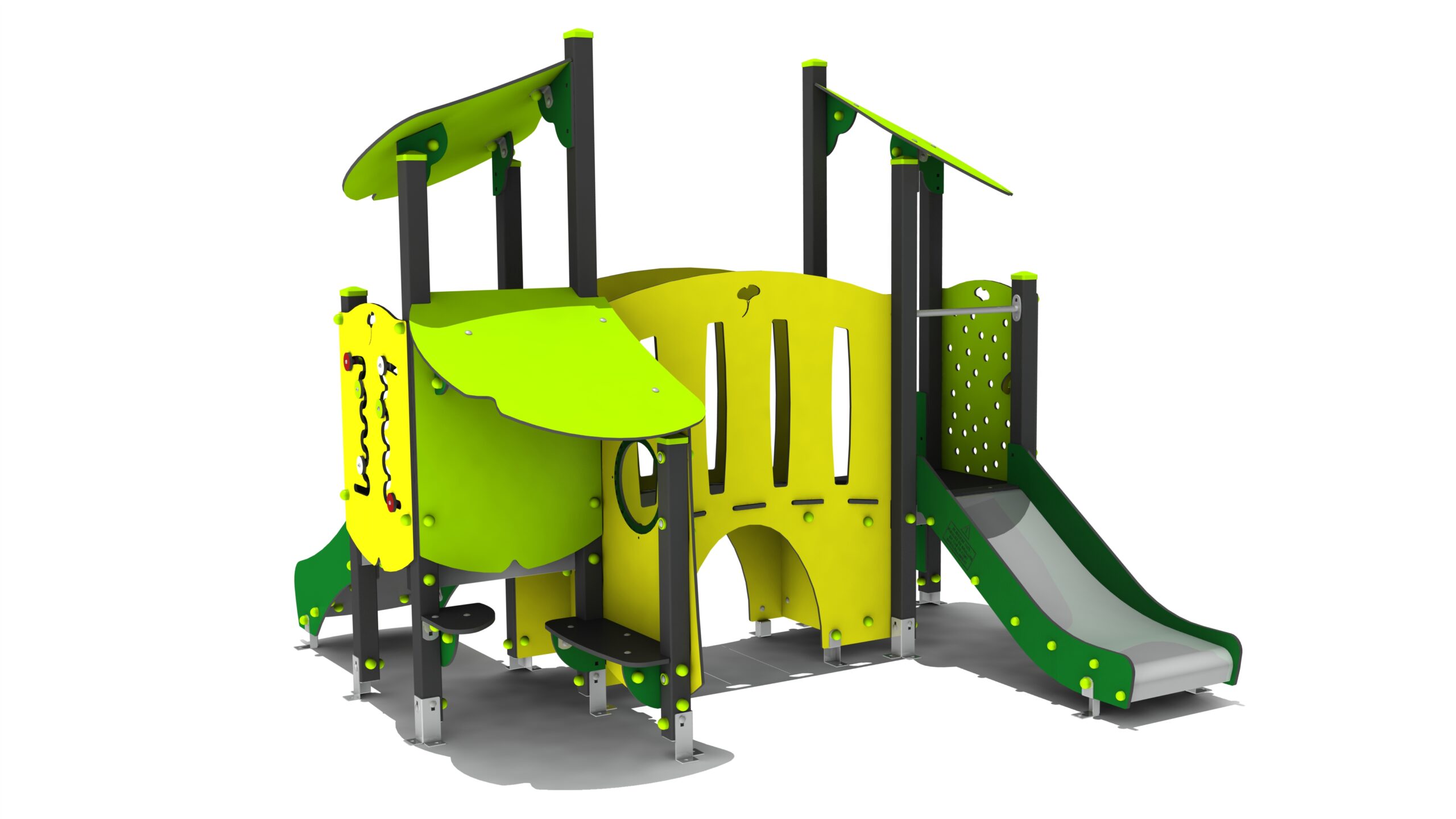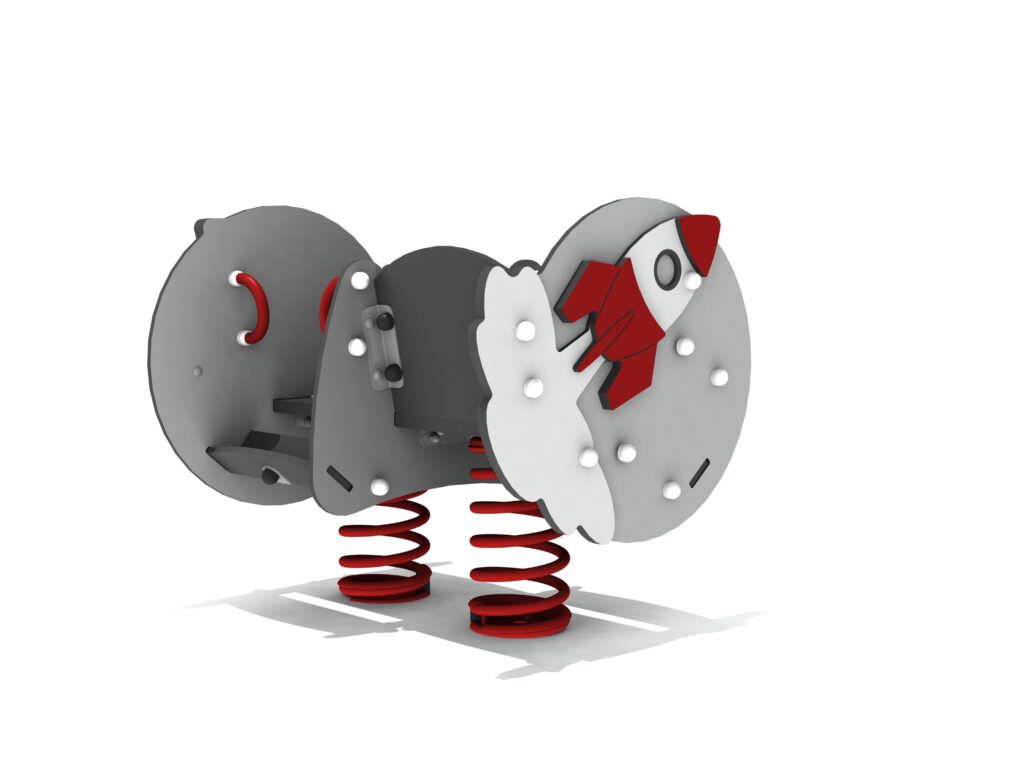 SPRING GAMES
They are a must for any playground. Equipped with footrests, handles and backrests for safety and comfort, they allow all children to swing alone or with others.
MIXED INCLUSIVE STRUCTURES
They are dedicated to children from 2 to 12 years old with mild or moderate disabilities. The mixed structures have more or less physical apparatus. People with reduced mobility have access to the play panels in the lower part and to the huts under the turret. The stairs are equipped with handrails to make climbing easier.
Turret height: 0m90 to 1m30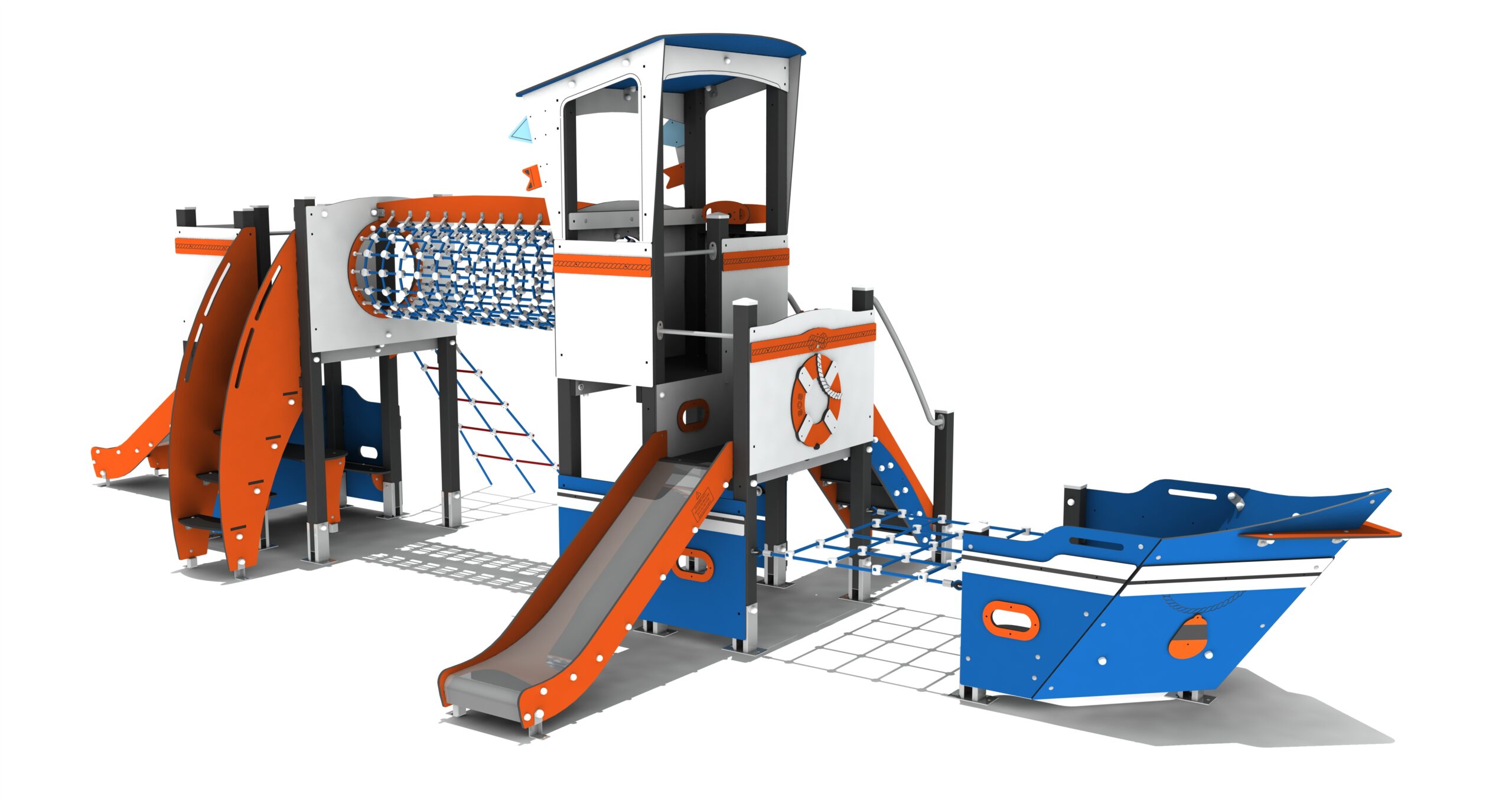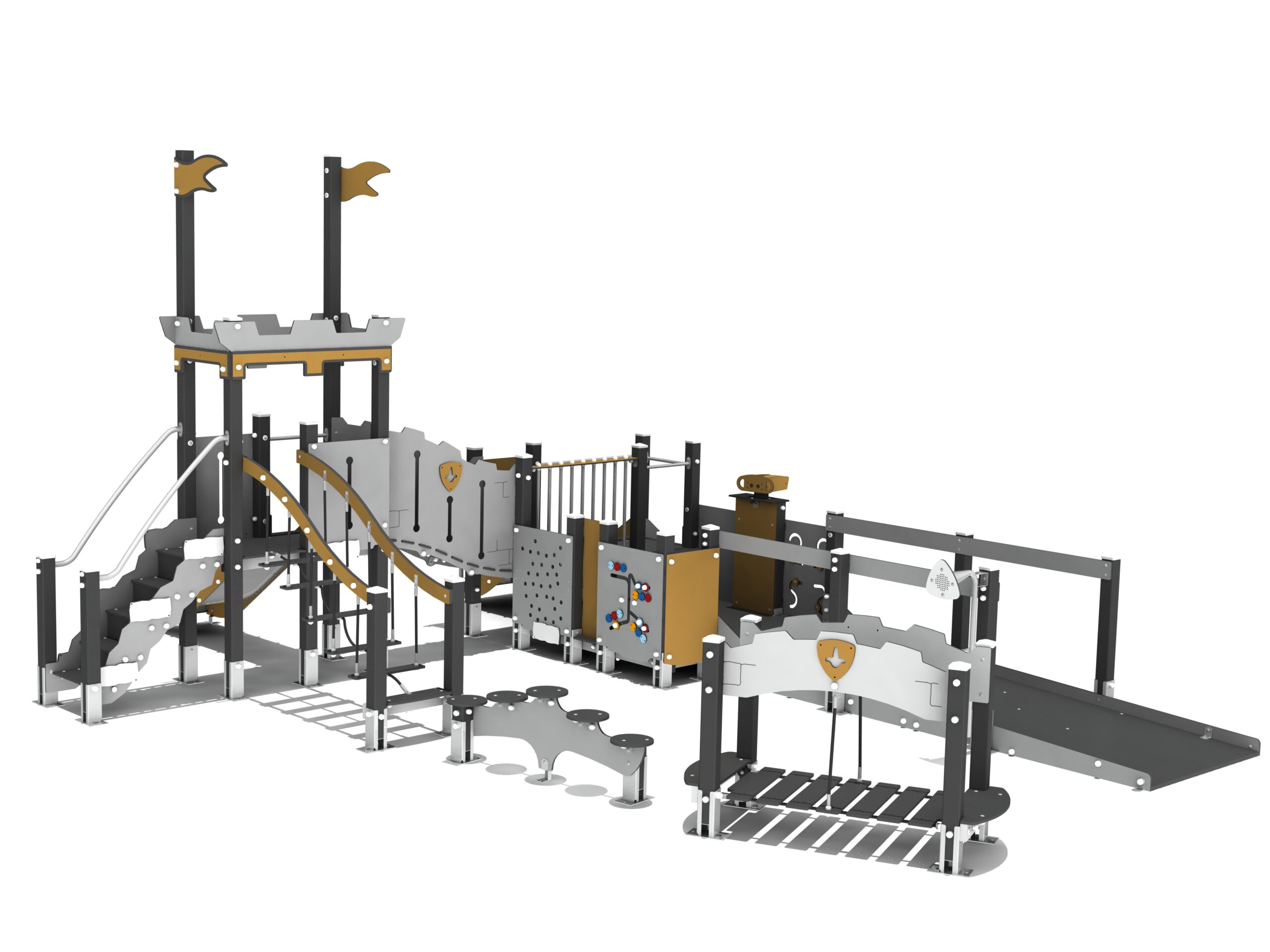 FULL INCLUSIVE STRUCTURES
They are a typical example of so-called inclusive facilities. A single structure can accommodate both able-bodied children and those with low or high levels of disability. They allow everyone to go through levels and have a course that can end with one or more slides.
Turret height: 0m55 to 1m30
THE HUTS
They are comprehensive and beneficial to several disabilities. They allow for "playing together", communication, role-playing and can be equipped with manipulation panels. They are also a place of rest and calm for children with autism or intellectual disabilities.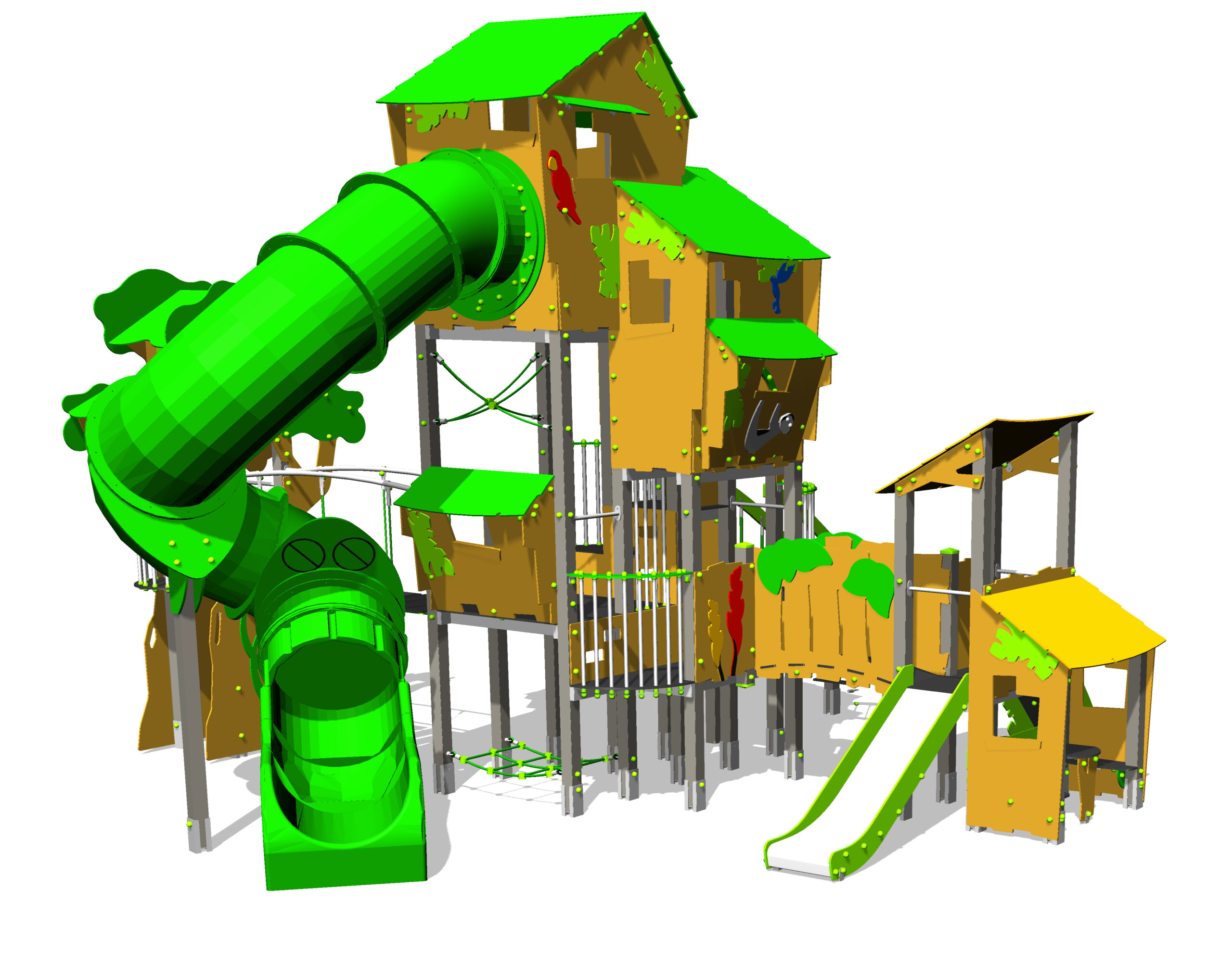 HIGH INCLUSIVE STRUCTURES
The higher floor heights make these structures more suitable for non-impaired or mildly impaired children. Access to the high towers is very safe for children with mild or intellectual disabilities. The play panels and the huts in the lower part are accessible to children with higher disabilities.
Turret height: 1m30 to 3m20
THE VEHICLES
The Explorail is the emblematic vehicle of inclusiveness. Thanks to its multiple carriages, all the criteria are fulfilled: a rest area with benches, playful panels accessible to all to communicate and play a role.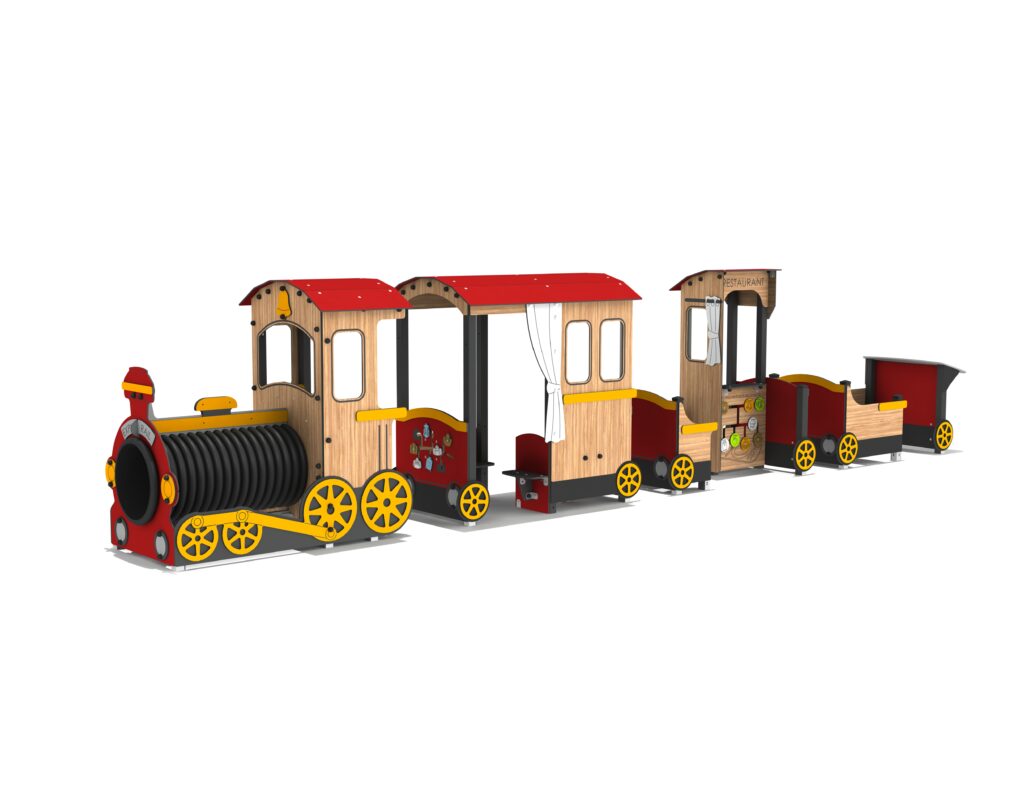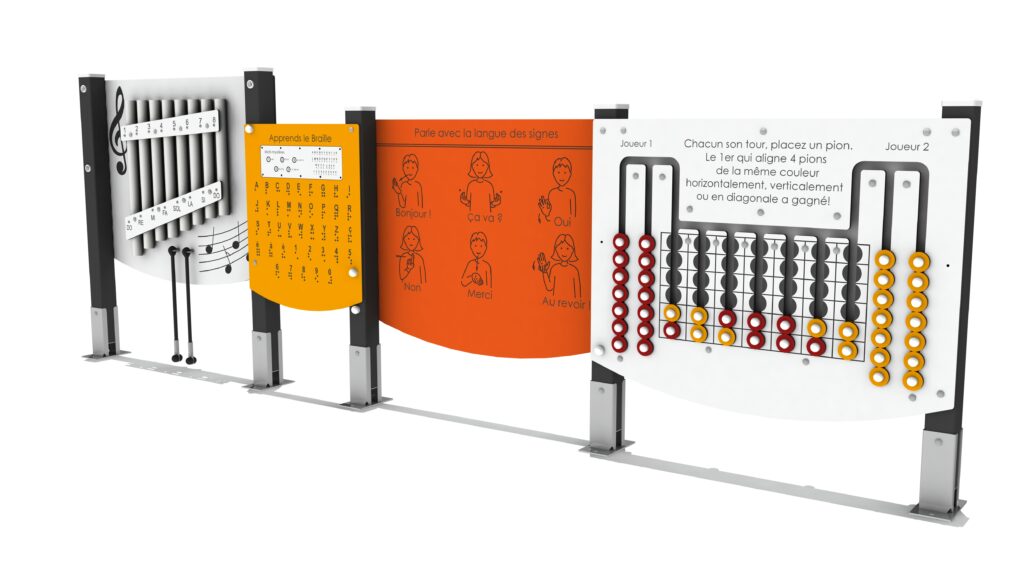 THE PLAY PANELS
They are diversified by their choice of games (simple games, multiplayer games, learning colours, numbers, sounds, environment...). They can be used separately on a playground or included directly on a structure. Vertically, they are suitable for people with reduced mobility (legs can pass under the panel) or can be made in a sloping version.
SUPPLEMENTS
The Tub'phone: it allows two children to talk to each other. A hearing-impaired person can even use it thanks to the sound amplification.
Sand factory: One of the games with the most manipulative panels for developing fine motor skills.
The Turny: it promotes "playing together". The centrifugal effect stimulates the auditory system and the inner ear.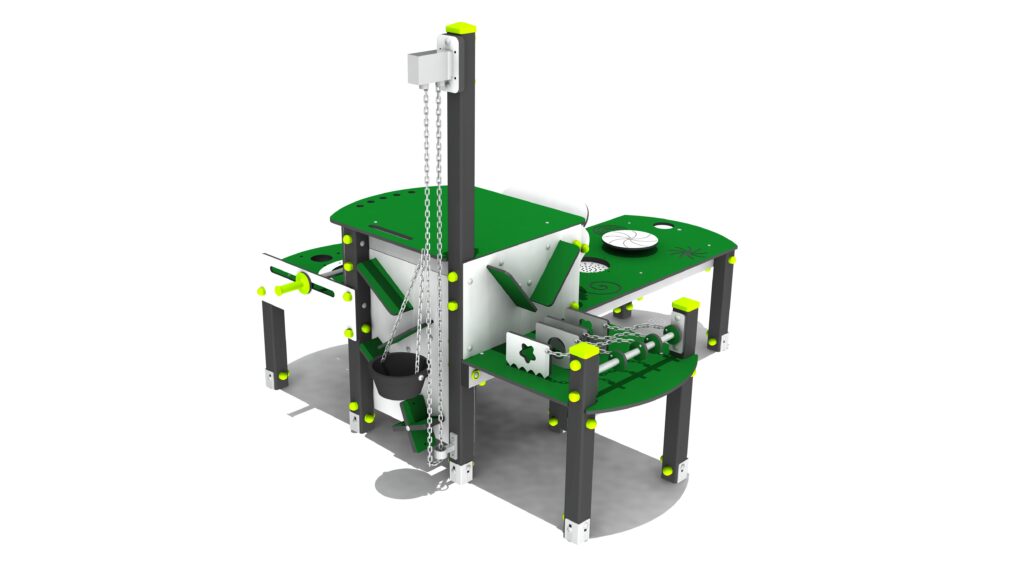 Extébois, having fun in complete safety

These logos are placed on inclusive products to highlight the benefits of the structure to allow accessibility for all.
In order to allow a better understanding of each disability, each logo and deficiency is detailed in the catalogue.